What's in the box this week
6 TO 8 OF THE FOLLOWING ITEMS
NECTARINES
CANTALOUPE
LETTUCE
CARROTS
BEETS
GREEN BELL PEPPERS
YELLOW SQUASH
CUCUMBER
POTATOES
RADISHES W/ TOPS – HAVE YOU TRIED MAKING RADISH CHIPS ???
ONIONS
GREEN BEANS YELLOW BEANS PURPLE BEANS
---
Fall Sign up time-  Now is the time to sign up for Fall.  Registration needs to be done by August 31 to guarantee farm fresh produce this fall.  Sign up through our website http://calvertfarm.com
---
Now is the time to start chopping a few veggies & putting into your freezer. Green bell peppers and onions are easy to do – if you are not using up a whole veggie – chop the leftover & freeze in handy jar or bag – just right for soup making, pot pies or general cooking. Chop now – save steps & time later. Remember – no need to blanch peppers or onions.
Another step saver is to cook extra with your meals & then freeze the already prepared veggie. It is ready for heat & serve when you are pressed for time.
We are trying to cut down on our use of plastics. In our household we are using a lot of reusable containers and glass jars. If you are using glass jars for freezing – be sure to leave enough head space for expansion of the food item.
---
Farmers fork- by Farmer Pam
The cicadas are whirring all day long – a reminder that the dog days of August are upon us –  back to school to – folks are getting used to the new public school schedule of now starting after labor day . It does give us an extra couple hands at the farm – we are busy with fall crops.  Now is the time to take your woody perennial cuttings – we are working on propagating a few hydrangea's and some figs.  We continue to start trays of our favorite leafy greens. Kale, Swiss chard, lettuces, arugula and collards to name a few. The wretched weather this summer has left with a lot of extra work. There are many downed trees and limbs to be picked up & disposed.  The gutters on the barn & house have been a constant source of irritation this season. The apple trees need some extra work – the heavy rains & high winds helped spread cedar gall and cedar rust to the fruit trees. The apples trees are now 23 years old – we would sure hate to lose them.
---
Recipes
CRISPY BAKED RADISH CHIPS (LOW FAT/LOW CARB)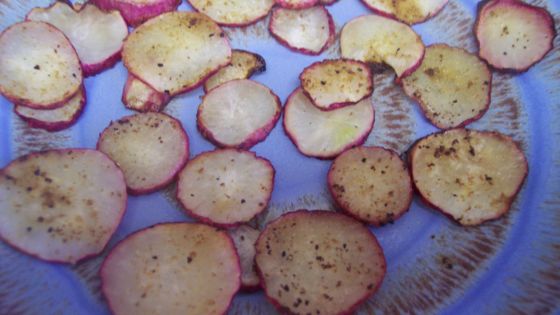 INGREDIENTS
10 -15

large radishes

nonstick cooking spray

salt, to taste

pepper, to taste
DIRECTIONS
Preheat oven to 375 degrees.
Slice radishes into very thin chips and spread on a cookie sheet that has been sprayed with non-stick cooking spray.
Lightly mist radish slices with cooking spray and then sprinkle with salt and pepper. (if using other seasonings, now is the time to add them).
Bake for 10 minutes, flip, and bake for another 5-10 minutes or until crisp. Time may vary so watch these after flipping.
GROUND BEEF STUFFED GREEN BELL PEPPERS WITH CHEESE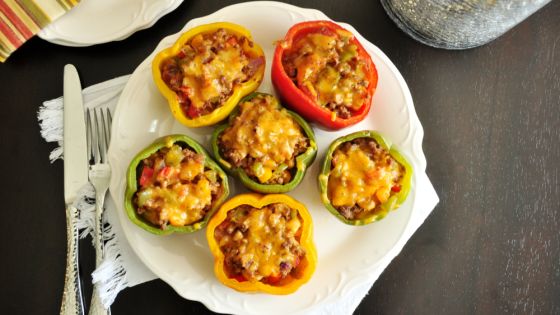 INGREDIENTS
6

large green peppers

1

lb beef, Ground

1⁄2

cup onion, Chopped

1

(16 ounce) can tomatoes, diced

1⁄2

cup long grain rice, any available rice is fine it may affect cooking time though

1

cup water

1

teaspoon salt

1

teaspoonWorcestershire sauce

1

cup cheddar cheese, Shredded (about 4 ounces)
DIRECTIONS
Cut off the tops of green peppers; discard seeds and membranes.
Chop enough of the tops to make 1/4 cup, set aside.
Cook the whole green peppers, uncovered in boiling water for about 5 minutes; invert to drain well.
Sprinkle insides of the peppers lightly with salt.
In a skillet cook ground beef, onion and 1/4 cup chopped pepper till meat is browned and vegetables are tender.
Drain off excess fat. Add drained tomatoes, salt, Worcestershire, and a dash of pepper.
in a separate pot put water bring to boil add rice cook until rice is soft. if needed add more water.
add rice to beef mixture.
Stir in cheese. Stuff peppers with meat mixture. Place in a 10x6x2 baking dish.
Bake, covered in a 350 degree oven for 30 minutes. in the last 5 minutes add any remaining cheese to the top of the peppers.
Beaumont Ranch Potato Salad
Directions: Place the potatoes into a large pot and cover with water. Bring to a boil over high heat, then reduce heat to medium-low, cover, and simmer until tender, about 20 minutes. Drain and allow to steam dry for a minute or two.
In a bowl, whisk together the dry Italian dressing mix, tarragon vinegar, water, and olive oil until thoroughly blended. Set aside.
Place the hot potatoes into a large bowl, and roughly but thoroughly slice them with a table knife until the potatoes are in chunks. Pour the dressing mixture over the hot potatoes, toss to coat, and let the potatoes cool. Add the celery, bacon bits, dill pickle, and green onion to the potatoes; lightly stir in mayonnaise until all ingredients are well combined, and serve.