THIS WEEK IN YOUR BOX 
6 TO 8 ITEMS FROM THE FOLLOWING LIST
NICE GREEN CABBAGE
SWEET CORN
SWEET ITALIAN FRYING PEPPERS
GREEN BELL PEPPERS
SWEET CANDY ONIONS
CARROTS
NECTARINES
MAYBE TOMATOES
YELLOW ZUCCHINI
GREEN ZUCCHINI
RED POTATOES
CANTALOUPE
FRESH CUT HERB
DELIVERIES ARE ON WED & THURSDAY – ON FARM PICK UP  IS THUR THRU SUNDAY AND BALTIMORE FARMERS MARKET UNDER JFX ON SUNDAY
---
Important Information
It's time for fall CSA sign up!  Reservations and payments due in by August 31st.  If using paypal – check out the extended payment plan.  Summer CSA ends the last full week of September- Fall begins the next week on the first full week of October.  The reservation form is available on the web site at www.calvertfarm.com.
---
Recipes
THE BEST CHOCOLATE ZUCCHINI CAKE
INGREDIENTS:
3 large eggs
1 tablespoon vanilla extract
1 1/2 cups (11.25 ounces) granulated sugar
3/4 cup buttermilk (homemade version here)
1/2 cup melted coconut oil, avocado oil, canola oil or vegetable oil
2 cup shredded zucchini (10 ounces)
1 1/2 cup (7.5 ounces) all-purpose flour
1/2 cup (2 ounces) natural, unsweetened cocoa powder
3/4 teaspoon salt
1 teaspoon baking soda
1/4 teaspoon baking powder
DIRECTIONS:
Preheat the oven to 350 degrees F. Lightly grease a 9X13-inch pan with cooking spray and set aside. I always use an aluminum/metal baking pan.
In a large bowl, whisk together the eggs, vanilla, sugar, buttermilk and oil.
Stir in the shredded zucchini.
Add the flour, cocoa powder, salt, soda and baking powder.
Stir until just combined and no dry streaks remain.
Spread the batter evenly in the pan and bake for 25-35 minutes until the top springs back lightly to the touch and a toothpick comes out clean or with a few moist crumbs.
Let cool completely.
Serve alone, with chocolate frosting or a dollop of lightly sweetened chocolate whipped cream (see note above).
Vegetarian Korma-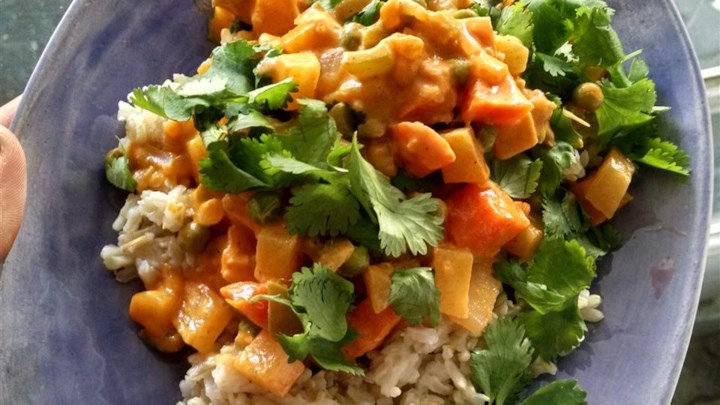 Ingredients
1 1/2 tablespoons vegetable oil
1 small onion, diced
1 teaspoon minced fresh ginger root
4 cloves garlic, minced
2 potatoes, cubed
4 carrots, cubed
1 fresh jalapeno pepper, seeded and sliced
3 tablespoons ground unsalted cashews
1 (4 ounce) can tomato sauce
2 teaspoons salt
1 1/2 tablespoons curry powder
1 cup frozen green peas
1/2 green bell pepper, chopped
1/2 red bell pepper, chopped
1 cup heavy cream
1 bunch fresh cilantro for garnish
Directions
Heat the oil in a skillet over medium heat. Stir in the onion, and cook until tender. Mix in ginger and garlic, and continue cooking 1 minute. Mix potatoes, carrots, jalapeno, cashews, and tomato sauce. Season with salt and curry powder. Cook and stir 10 minutes, or until potatoes are tender.
Stir peas, green bell pepper, red bell pepper, and cream into the skillet. Reduce heat to low, cover, and simmer 10 minutes. Garnish with cilantro to serve.
Egg Roll Noodle Bowl-
TOTAL TIME: Prep/Total Time: 30 min.YIELD: 4 servings.
Ingredients
1 tablespoon sesame oil
1/2 pound ground pork
1 tablespoon soy sauce
1 garlic clove, minced
1 teaspoon ground ginger
1/2 teaspoon salt
1/4 teaspoon ground turmeric
1/4 teaspoon pepper
6 cups shredded cabbage (about 1 small head)
2 large carrots, shredded (about 2 cups)
4 ounces rice noodles
3 green onions, thinly sliced
Additional soy sauce, optional
Directions
1. In a large skillet, heat oil over medium-high heat; cook and crumble pork until browned, 4-6 minutes. Stir in soy sauce, garlic and seasonings. Add cabbage and carrots; cook 4-6 minutes longer or until vegetables are tender, stirring occasionally.
2. Cook rice noodles according to package directions; drain and immediately add to pork mixture, tossing to combine. Sprinkle with green onions. If desired, serve with additional soy sauce.