WHAT IS IN YOUR BOX THIS WEEK
6-8 ITEMS
CABBAGE
BROCCOLI
CAULIFLOWER
CARROTS
LETTUCE
KALE
COLLARDS
ONIONS
LEEK
YUKON GOLD POTATOES
SWEET POTATOES
PARSLEY OR MINT
WINTER SQUASH – ACORN, DELICATA OR HUBBARD
MUSHROOMS – EITHER CRIMINI OR SHIITAKE
APPLES
PEARS – EITHER BOSC OR BARTLETT
TURNIPS
BEETS
RADISHES
---
Farmers Fork- From Farmer Pam
As we prepare for the Holidays we have noticed that many people prepare 'simple' foods. A turkey, the stuffing may have a few ingredients but is mostly homemade. Sides – unless you are trying the green bean casserole the sides are also fairly simple – mashed potatoes with a gravy on the side. A salad. A pie – apple , pumpkin, pecan or sweet potato – again , very plain recipes. Rolls – mostly heat & serve these days but again – plain.
In this day of expensive meal delivery services with fancy recipes and little tiny packets of seasonings – we take pride in delivering 'just farm fresh food' with enough so you may leftovers 😉
---
Recipes
Sweet Potato Casserole – Ruth's Chris
Ruth's Chris Sweet Potato Casserole
Make the famous Sweet Potato Casserole from Ruth's Chris at home tonight!
Makes 4 Servings
INGREDIENTS
Crust Mixture:
3/4 cup brown sugar
1/4 cup flour
3/4 cup chopped nuts (pecans preferred)
1/4 cup melted butter
Sweet Potato Mixture:
3/4 cup sugar
1/4 teaspoon salt
1/4 teaspoon vanilla
2 cups mashed sweet potatoes
1 egg, well beaten
1/4 cup butter
PROCESS
Combine Crust Mixture in mixing bowl and put to one side.
Combine Sweet Potato Mixture ingredients in a mixing bowl in the order listed. Combine thoroughly.
Pour Sweet Potato Mixture into buttered baking dish.
Sprinkle Crust Mixture evenly onto surface of Sweet Potato Mixture.
Bake for 30 minutes at 350°. Allow to set for at least 30 minutes before serving.
Sweet Potato Pie- Sally's Baking Addiction
Brown Sugar Sweet Potato Pie
Ingredients:
1 lb sweet potatoes (about 2 medium)
1/2 cup (115g) unsalted butter, softened to room temperature
1 cup (200g) packed light or dark brown sugar (I prefer dark)
1/2 (120ml) cup heavy cream
2 large eggs
2 Tablespoons all-purpose flour
1 teaspoon pure vanilla extract
1 teaspoon ground cinnamon
1/2 teaspoon ground nutmeg
1/4 teaspoon ground cloves
1/4 teaspoon ground ginger
egg wash: 1 large egg beaten with 1 Tablespoon (15ml) milk
optional: whipped cream
Directions:
The crust: Prepare my pie crust recipe through step 5.
Place sweet potatoes in a large saucepan. Cover them with water, then bring to a boil on the stovetop. Boil for 45-50 minutes, or until super soft. During this time, begin step 3.
On a floured work surface, roll out one of the discs of chilled dough. Turn the dough about a quarter turn after every few rolls until you have a circle 12 inches in diameter. Carefully place the dough into a 9×2 inch pie dish. Tuck it in with your fingers, making sure it is smooth. Use a small paring knife to trim excess dough off the edges. Flute the edges. Set aside.
Preheat oven to 350°F (177°C).
Drain the boiling water and run the potatoes under very cold water. The skin should peel off easily at this point. Allow to cool until easy to handle. Slice the potatoes into a couple large chunks, then place into a mixing bowl.
Using a handheld or stand mixer fitted with a paddle or whisk attachment, beat the potatoes on medium-high speed until smooth. Add the remaining ingredients (down to the egg wash, don't add that!) and beat on high speed until smooth and combined. Spread filling into prepared pie crust. Brush the edges of the crust with egg wash.
Bake for 55-60 minutes or until the center of the pie is only slightly jiggly. A toothpick inserted into the center of the pie should come out *mostly* clean. After 30 minutes and if desired, place a pie crust shield on top of the pie to prevent the edges from over-browning.
Place the pie on a cooling rack and allow to cool for at least 1 hour at room temperature before serving. The pie will slightly deflate as it cools; this is normal. Decorate with whipped cream or pie crust acorns (see note). Cover leftovers tightly and store in the refrigerator for up to 5 days.
Make ahead tip/Freezing: This a great pie to make 1 day in advance; the flavors are even better on day 2– cover tightly and store in the fridge. The pie crust dough can also be prepared ahead of time and stored in the refrigerator for up to 5 days or in the freezer for up to 3 months. Baked pie freezes well for up to 3 months. Thaw overnight in the refrigerator and allow to come to room temperature before serving. Prepared filling can be frozen up to 3 months, thaw overnight in the refrigerator before using.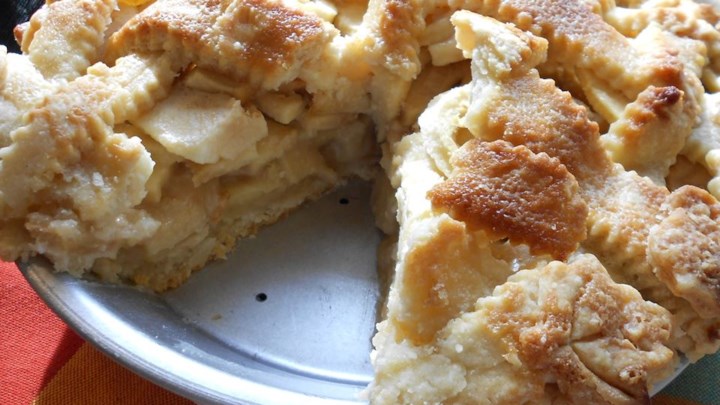 Apple Pie by Grandma Ople-Allrecipes
Ingredients
1 recipe pastry for a 9 inch double crust pie
1/2 cup unsalted butter
3 tablespoons all-purpose flour
1/4 cup water
1/2 cup white sugar
1/2 cup packed brown sugar
8 Granny Smith apples – peeled, cored and sliced
Directions
Preheat oven to 425 degrees F (220 degrees C). Melt the butter in a saucepan. Stir in flour to form a paste. Add water, white sugar and brown sugar, and bring to a boil. Reduce temperature and let simmer.
Place the bottom crust in your pan. Fill with apples, mounded slightly. Cover with a lattice work crust. Gently pour the sugar and butter liquid over the crust. Pour slowly so that it does not run off.
Bake 15 minutes in the preheated oven. Reduce the temperature to 350 degrees F (175 degrees C). Continue baking for 35 to 45 minutes, until apples are soft.