SUMMER CSA WEEK 5
LIST FOR THIS WEEK  – 6 TO 8 ITEMS FROM THE FOLLOWING LIST
LETTUCES
BEETS
GARLIC SCAPES
KALE
COLLARDS
ZUCCHINI
DANDELION GREENS
YELLOW SQUASH
CUCUMBER
HERB
POTATOES
ONIONS
SUMMER CSA WEEK 6 (Week of June 25)
LIST FOR THIS WEEK  – 6 TO 8 ITEMS FROM THE FOLLOWING LIST
BROCCOLI
YELLOW SQUASH
CUCUMBER
ZUCCHINI
PEAS SHELLING
PEAS SNOW
HERB
SWEET CANDY ONIONS
BEETS
CARROTS
---
Farmers Fork- by Farmer Pam
The pelting hard rains followed by the spike in heat have beaten the veggies up – we tried really hard this week but things are a bit tattered. We continue to make up for the losses this spring – we are now on the third planting & it is looking strong – we have high hopes for some decent tomatoes, peppers & eggplants. The corn is not faring well – heavy water saturation has diminished nutrients in the soil – corn is a heavy feeder – we hope for the best.
My annual ride to Florida to pick up my father was the usual adventure. I left Monday morning from Baltimore airport – it was 51 degrees when I got ready to leave. It was 98 on the ground at the Ft. Meyers airport. Take off was delayed for 45 minutes on the tarmac at BWI due to rough weather. The flight down was seat belts the whole way – we are glad to be on the ground again. The drive back was interesting – heavy rains through the entire ride through the state of Georgia – many fields under water. South Carolina was clear but you could see massive crop damage along the way. North Carolina of course is always charming – the federated women's garden clubs take care of most of the rest stations – there is an unwritten competition going on there.  The gardens are beautiful. The highway plantings also deserve mention. they display bright plantings of flowers & shrubs. We were entertained by the famous – glory foods' billboards – peas be with you, come out of your shell – just like the old Burma shave signs .
Planting and Harvesting a daily event.  Weeding still going strong.  The Folklore is weeds out by fourth of July,  you should be good to fly.  Hmm- we shall see
---
News and Information
With great sadness, our dearest Dr. Debby has passed away peacefully today in her home after a year-long battle with lymphoma. Debby is Farmer Pam's sister in law.  Her presence in all of our lives will be greatly missed. A memorial service is scheduled for July 7th. Calling Hour 9am, Service 11am. In lieu of flowers, the Roberts family asks that donations can be made to the Veterinary Care Foundation at Nonantum's website www.nonantumvet.com.  Alternatively, donations can be made to the London Britain Land Trust.
We want your input-
Please help complete this survey! It will take only 10 minutes—a team from the Charles H Dyson School of Applied Economics & Management at Cornell University will analyze the surveys to determine trends, preferences and needs of "today's" local food shoppers.
https://cornell.qualtrics.com/jfe/form/SV_72s6sR6z0cs4D1X
---
Recipes

INGREDIENTS
1 

bunch dandelion greens, washed, drained and trimmed

3 

green onions, chopped (white and green parts)

fresh dill (or 2 teaspoons dried)

1⁄4 

cup extra virgin olive oil

1⁄2 

lemon, juice of

salt & fresh ground pepper, to taste
 DIRECTIONS
Place all the ingredients, up to olive oil, in a large bowl and toss together.
In another little bowl stir together oil, lemon juice and salt and pepper. Pour over salad. Enjoy!
Click here for more fun ideas on cooking with dandelion greens 
Kitchn
Balsamic Roasted Beet Salad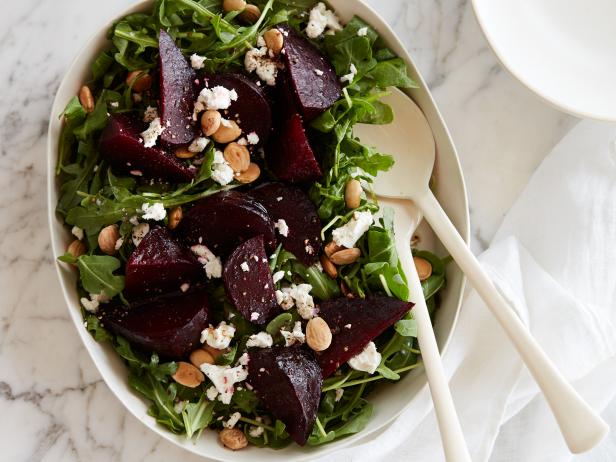 8 medium-size beets, tops removed and scrubbed
1/2 cup balsamic vinegar
1/2 cup good olive oil
2 teaspoons Dijon mustard, such as Grey Poupon
Kosher salt and freshly ground black pepper
4 ounces baby arugula
1/3 cup roasted, salted Marcona almonds, toasted
4 ounces soft goat cheese, such as Montrachet, crumbled
Preheat the oven to 400 degrees.
Wrap the beets individually in aluminum foil and place them on a sheet pan. Roast them for 50 minutes to 1 hour, depending on their size, until a small sharp knife inserted in the middle indicates that they are tender. Unwrap each beet and set aside for 10 minutes, until cool enough to handle. Peel the beets with a small, sharp knife over a piece of parchment paper to prevent staining your cutting board.
Meanwhile, whisk together the vinegar, olive oil, mustard, 2 teaspoons salt, and 1 teaspoon pepper and set aside. While the beets are still warm, cut each one in half and then each half into 4 to 6 wedges and place them in a large mixing bowl. As you're cutting the beets, toss them with half of the vinaigrette (warm beets absorb more vinaigrette), 1 teaspoon salt, and 1/4 teaspoon pepper. Taste for seasonings.
Place the arugula in a separate bowl and toss it with enough vinaigrette to moisten. Put the arugula on a serving platter and then arrange the beets, almonds, and goat cheese on top. Drizzle with additional vinaigrette, if desired, sprinkle with salt and pepper, and serve warm or at room temperature.